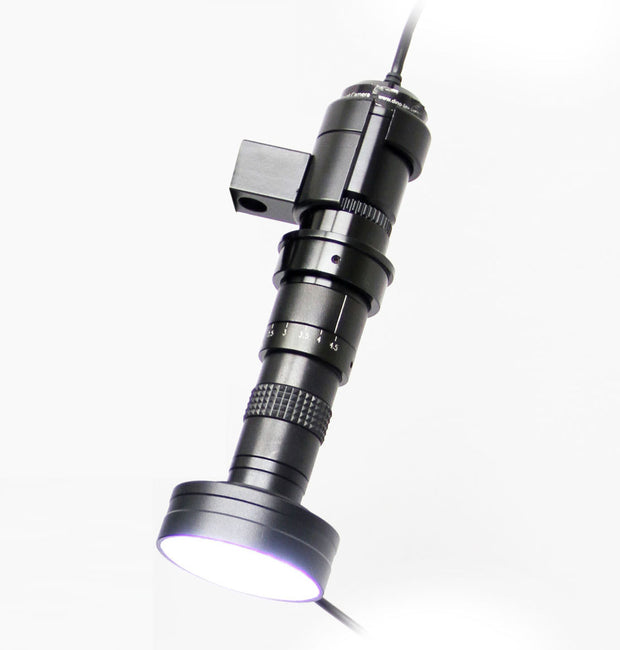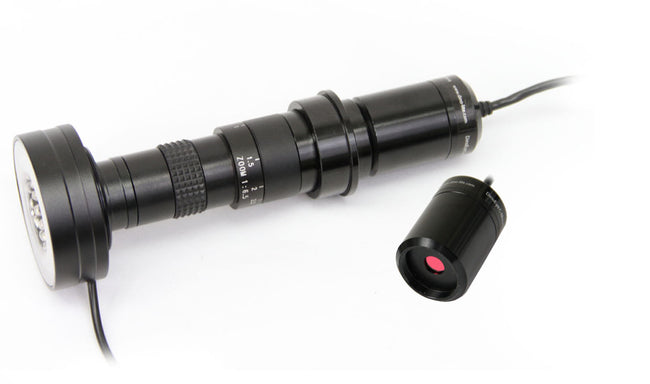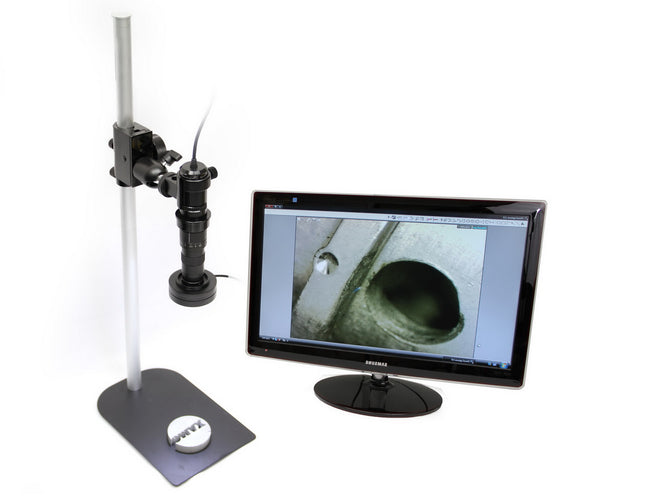 UB503 requires the use of a stand such as the UB35T, UB35TA2, MS53B, or a stand with a tripod mount   Industrial camera bundled with Dino-Eye Premier AM7023CT which is a USB 2.0 powered...
Industrial camera bundled with Dino-Eye Premier AM7023CT which is a USB 2.0 powered device that has five megapixels of resolution that allows large detailed images without an existing microscope with picture sizes up to 2592×1944. Bundle includes MLGLH1 lens that can be attached with the included white LED ring light with dimmer (if needed) to provide optimal lighting conditions that is powered via AC Adapter, and MSA2M holster. This model has a MicroTouch trigger for capturing images without clicking on a mouse or using a keyboard. Integrate into your existing system or use with the MS35TA2 stand made specifically for this line of microscope cameras. Depending on your distance from the object in view you can receive a magnification from 22X ~ 220X for more details see the link below for the Working Distance vs Magnification Reference Chart. 
With its USB interface, you can also easily and directly record images on your computer with the included DinoCapture software's for PC or DinoXcope software for MAC. The UB503-LH1 Industrial Camera is a perfect companion for work, clinic, or laboratory using any device that can attach a C-Mount camera.
This eyepiece digital camera (USB 2.0) is professionally designed for traditional microscopes. It works perfectly with all kinds of optical microscopes, such as Biological microscope, Metallurgical microscope and Stereo microscope, etc.
The images of the observed product line or subject can be accurately displayed on the computer screen. The powerful, advanced software included with the camera ensures simple and convenient operation allowing easy capture of images from the microscope!
Product Schematic: View PDF File
Working Distance Chart: View Image File
---
Shipping & Delivery
Orders placed before 3:00 P.M. Pacific Time, generally ship on the same day. Orders placed after the daily deadline will ship the following business day. Unless a UPS or FedEx shipping account is provided, the shipping courier (UPS, FedEx, USPS) used for your order may vary at our discretion.
To use your own shipping account, please add this
Special shipping option
to your cart. You must specify your desired shipping method and Account number in the "Order Notes" section of your shopping cart.
---
---
Warranty & Guarantee
Dino-Lite Microscopes include a 2-Year Warranty. Accessories include a 1-Year Warranty.

We offer a 30-day return/exchange period to ensure the product you select is the right fit for your application. Returns or exchanges within 30 days of purchase are offered no-questions-asked, simply contact us and we'll be glad to help you sort it out.