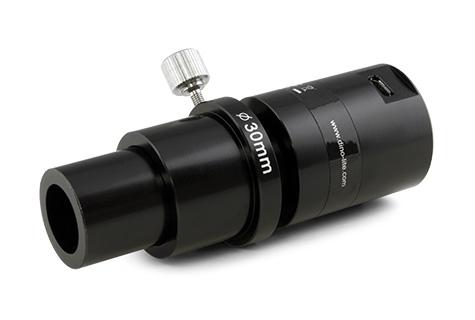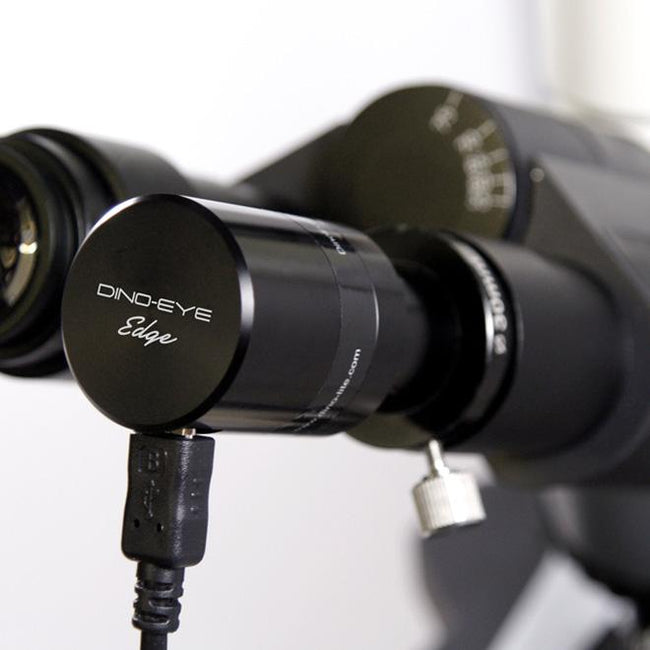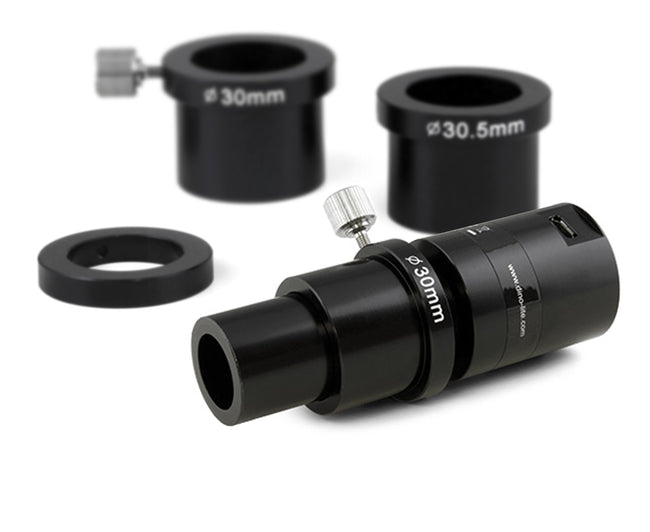 Sensor Type CMOS Resolution 1280 × 1024 pixels Megapixels 1.3 MP Frame Rate (max) 30 FPS Base Magnification Equivalent to 20x Operating System Windows XP, Vista, 7, 8, 10,...
 

| | |
| --- | --- |
| Sensor Type | CMOS |
| Resolution | 1280 × 1024 pixels |
| Megapixels | 1.3 MP |
| Frame Rate (max) | 30 FPS |
| Base Magnification | Equivalent to 20x |
| Operating System | Windows XP, Vista, 7, 8, 10, Mac OS 10.11.6 or newer |
| Included Software | DinoCapture 2.0 (Windows), DinoXcope (Mac OS) |
| Connection Type | USB 2.0 |
| Image Save Formats (Windows) | BMP, GIF, PNG, JPG, TIF, RAS, PNM, TGA, PCX, MNG, WBMP, JP2, JPC, PGX |
| Image Save Formats (Mac OS) | JPEG, PNG |
| Video Save Formats (Windows) | WMV, FLV, SWF |
| Video Save Formats (Mac OS) | MOV |

| | |
| --- | --- |
| Base Diameter | 23mm |
| Dimensions | 8.0cm (H) x 3.2cm (D) |
| Weight | 117g (7025X) |
| Cable Length | 182cm (71.65 in) |
| Body Material | Metal |
| Measurement | Yes |
| Package Includes | Camera, Edge Calibration Target |
| Warranty Period | 2 years |
| Manufactured in | Taiwan |
| Service & Support | U.S. (www.dinolite.us) English & Spanish |
| Regulatory Approval | CE, FCC |
THIS PRODUCT IS REFURBISHED/RECONDITIONED/OPEN BOX
The terms refurbished and reconditioned are used interchangeably to describe products that have been refurbished, inspected, brought back to original specification then tested and packaged for sale in Like New condition. Open box items can be items that were purchased and return in New or Like New condition or items that were opened for some reason but are in great condition and in working order. Refurbished & Open Box products represent a great value and we offer them with confidence knowing that every refurbished product was tested to ensure it is in working order. These refurbished/reconditioned/Open Box Dino-Lite products are warrantied by the manufacturer for 2 years from purchase.
The high-quality Edge Series class optics and high-resolution sensor are now available as a 1.3MP version with the Dino-Eye Edge Series AM4025X. This eyepiece camera offers remarkable image performance while providing a relatively larger field of view than its predecessors. The AM4025X design and included adapters allows for fitment within 23mm, 30mm, 30.5mm or c-mount eyepiece slots which can be fixed into ideal focal positions. AM4025X delivers sharp images with authentic color while a large Field of View for revealing more details.
---
Shipping & Delivery
Orders placed before 3:00 P.M. Pacific Time, generally ship on the same day. Orders placed after the daily deadline will ship the following business day. Unless a UPS or FedEx shipping account is provided, the shipping courier (UPS, FedEx, USPS) used for your order may vary at our discretion.
To use your own shipping account, please add this
Special shipping option
to your cart. You must specify your desired shipping method and Account number in the "Order Notes" section of your shopping cart.
---
---
Warranty & Guarantee
Dino-Lite Microscopes include a 2-Year Warranty. Accessories include a 1-Year Warranty.

We offer a 30-day return/exchange period to ensure the product you select is the right fit for your application. Returns or exchanges within 30 days of purchase are offered no-questions-asked, simply contact us and we'll be glad to help you sort it out.