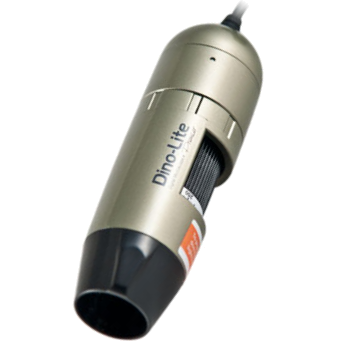 THIS PRODUCT IS A CLEARANCE ITEMThis product is new condition but is being phased out. These clearance items are warrantied for 1 year from purchase. The AM4013-FVT Pro handheld digital...
Availability:
Out Of Stock
THIS PRODUCT IS A CLEARANCE ITEM
This product is new condition but is being phased out. These clearance items are warrantied for 1 year from purchase.
The AM4013-FVT Pro handheld digital microscope comes with built in near UV-fluorescent LED's that has 395nm. The AM4013-FVT comes with a high quality 1.3 megapixel sensor which allows users to examine object with the greatest of details. With this model, the user can view objects at various magnifications depending of distance, with a maximum magnification over 200x under UV-fluorescent light.
It also comes with the easy to use MicroTouch trigger (touch sensitive static sensor). The MicroTouch feature on the handheld digital microscope gives users the option of taking a picture right from the scope itself. The MicroTouch was designed to minimize image blur while taking a picture with the microscope. Great for those moments when you need to take a picture, but having a hard time reaching the computer.
Ideal for scientific, medical and engineering research and inspection, as well as industrial quality control (parts inspection, failure analysis), dermatology (skin/scalp) exam, law enforcement (counterfeit ID, crime lab, CSI, etc). It can be used in conjunction
with detecting counterfeit currency as well as other forms of documents such as; valid identification, lottery tickets, concert or event tickets, travelers checks, credit cards, passports, forgeries and countless possibilities. Simply use your imagination!
Included with the Dino-Lite handheld digital microscope is a copy of the "DinoCapture" software, enabling you to "capture" either a photograph, video, or time-lapsed video within a few simple clicks. This model comes with the full version of DinoCapture software which includes measurement and measurement calibration for greater precision work. As for all DinoCapture software though, updates with improvements to the software is always free.
---
Shipping & Delivery
Orders placed before 3:00 P.M. Pacific Time, generally ship on the same day. Orders placed after the daily deadline will ship the following business day. Unless a UPS or FedEx shipping account is provided, the shipping courier (UPS, FedEx, USPS) used for your order may vary at our discretion.
To use your own shipping account, please add this
Special shipping option
to your cart. You must specify your desired shipping method and Account number in the "Order Notes" section of your shopping cart.
---
---
Warranty & Guarantee
Dino-Lite Microscopes include a 2-Year Warranty. Accessories include a 1-Year Warranty.

We offer a 30-day return/exchange period to ensure the product you select is the right fit for your application. Returns or exchanges within 30 days of purchase are offered no-questions-asked, simply contact us and we'll be glad to help you sort it out.